Lexie is a NWN Sponsored Athlete. You wouldn't know it by looking at her, but she has only been competing for a couple of years. In that very short time she has built quite an impressive collection of medals from almost every league in Australia.
How does someone who's life is focused on their next adventure as a traveller put aside their plans to pursue of a goal so rooted in home life routine? It may have been when she came back home to save some money for her next trip that changed the course of her life, setting her on a course for an all new adventure that she's perfectly cut out for.
This is Lexie's Stage Story – Written by Lexie Freestone.
To understand why I got into the sport of bodybuilding you need to know a little more about me. Growing up I was always competitive and sporty, competing in athletics until I found what I excelled at which was artistic roller skating.
I was state champion and competed nationally a few times until I walked out of the rink at my peak after a bad training session and just didn't go back. At the time I was struggling in all aspects of my life, and it took a huge toll on my mental health, I put so much pressure on myself to exceed in skating that I got to the point of not enjoying it and each fall just got harder to get back up from.
I finished school and travelled between Aus, America and the UK for 6 years, only coming back home for a maximum of 9 months to put some money in the bank. When I got home after my last stint of travels, skating wasn't necessarily something I could work into my life anymore and so I started at the gym. I also started working for fellow NWN athlete,
Leilani, looking after her son.
Through her I was introduced to the world of bodybuilding and learned it was no longer big burly men and jacked ladies eating chicken and rice 365 days a year. Its so much more flexible and inclusive than that, I learned of the different divisions and thought bikini would be fun but I didn't have the time to dedicate since I had travel plans.
But COVID hit. My plans went out the window and now I had no goals – nothing to work towards in my life.
One day I messaged Lani and said "I think I want to get into bodybuilding". Her immediate response was "OMG Yes!!".
Next minute I was added to the Season B group chat and had an appointment with coach Scott.
It went from "I think" to "I'm doing" real quick.
I went to my first group posing lesson and from then on it was full prep mode, though I had no idea what this meant.
I'd never paid much attention to nutrition, my training was consistent but had given me little results. I got my calories and training program from Scott and my body instantly responded, losing weight and mms from my skinfold pinch.
Overall I found my first prep relatively easy, I didn't struggle much with hunger, training or steps. Learning to accurately track calories/macros and pose were the tricky parts. Extremely thankful to have Lani in my life,
she's helped me so much!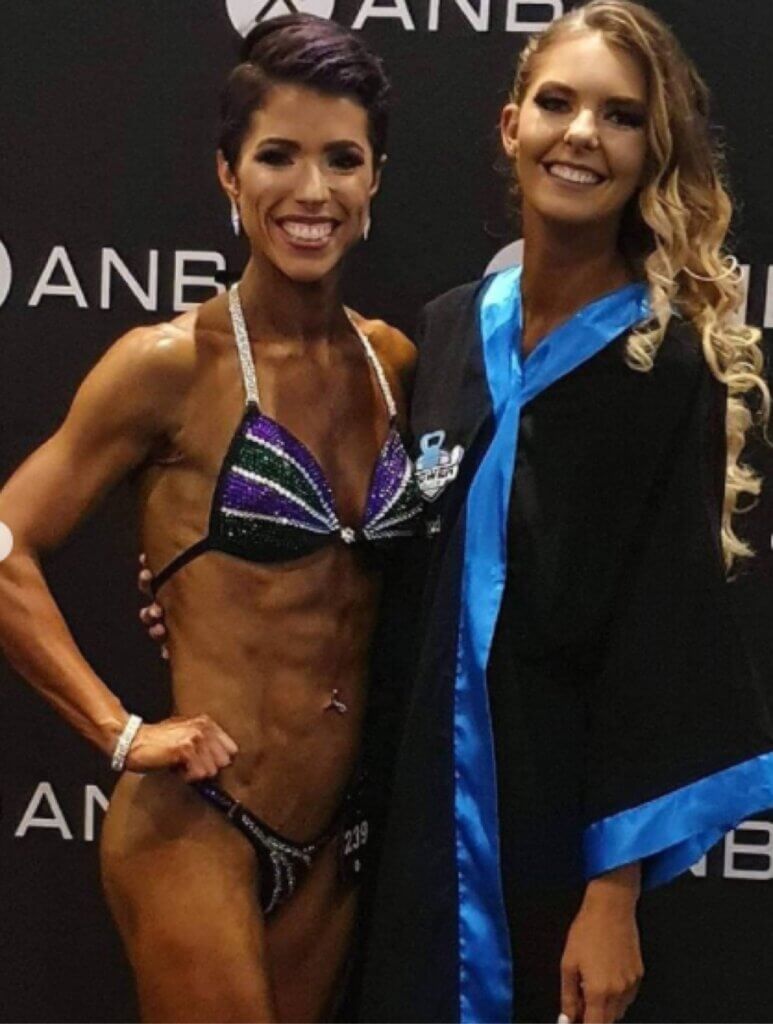 My first competition was the ICN south coast classic, I had no idea what to expect and was nervous but
thankful for skating for all the stage confidence it had given me. I got up on stage for my first division,
swimsuit, I went through the quarter turns very distracted by the other competitors and then we were
placed.
5th, 4th and 3rd place were called and I was stoked with 2nd but then they called 2nd place and it still
wasn't me.
I was in pure shock that my first ever time I'd stepped on the bodybuilding stage I walked away with 1st place. Like what!
From then on, the fire in me grew, I went on to do 2 more competitions in season B. ICN states and ANB nationals.
Across the 3 competitions I placed top 3 in 8 out of 10 events.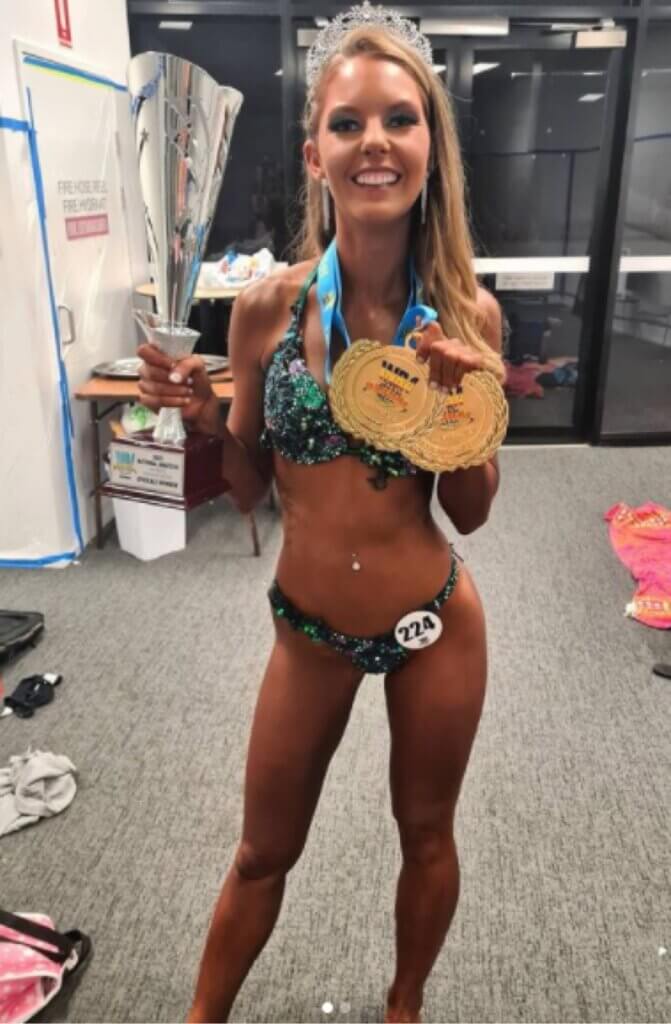 I was absolutely blown away with myself and knew I had found my new sport, my new goal to work towards.
I had a short bulk period, eating in a surplus, lifting heavy and backed it up in season A. The second prep was much harder both mentally and physically, training was harder, cutting the calories after being so high was a struggle and I slipped up more than once.
Having done so well in season B I had higher expectations for myself so I persevered and smashed it even though I had what felt like a crappy prep.
In season A I found the federation that I'm most suited to, has big opportunities and where I can do well which is INBA.
I walked away with gold in both bikini and swimsuit and the swimsuit overall title, only narrowly missing bikini overall.
Such a narrow miss only made me want to compete more, so I'll be back in season B, I'm chasing that gold and that
Pro Card!
This sport is hard. Mentally, physically and emotionally.
But you get what you put in and I'm ready to put in the work!