Description
Stress is a normal part of everyday life. Humans need stress to stimulate growth. We stress our bodies working out, thinking and creating families and we reap the rewards from it. Stress is normal, however if you're stressed out and struggle to sleep at night you're doing yourself harm. Cort RX has been designed to lower cortisol (stress hormone) levels and get your body working optimally again.
Long periods of high stress levels and inadequate sleep lead to a variety of issues such as weight gain, high blood pressure and weaken the immune system. It also increases the risk of Heart Disease, Diabetes and lowers sex drive.
Symptoms of excessive stress may include:
Dependency on stimulants to "function" on a daily basis
Inability to get a restful sleep
Having trouble concentrating
Clumsiness or a general lack of coordination
Waking up feeling tired
Inability to concentrate for even relatively short periods of time
Poor short term memory recollection
Poor long term memory recollection
Little to no sex drive for no other obvious reason
Humans spend approximately 1/3 of their lives sleeping. It's an integral part of our being. Cort RX can help get your stress levels back down, allowing you to get back to a state where you can sleep and restore important functions in the body.
Normally, cortisol is produced upon waking and may spike throughout the day depending on what you get up to, such as working out, seeing a shockingly large electricity bill or intense meetings at work. In a normal scenario, levels drop down towards the evening as shown below: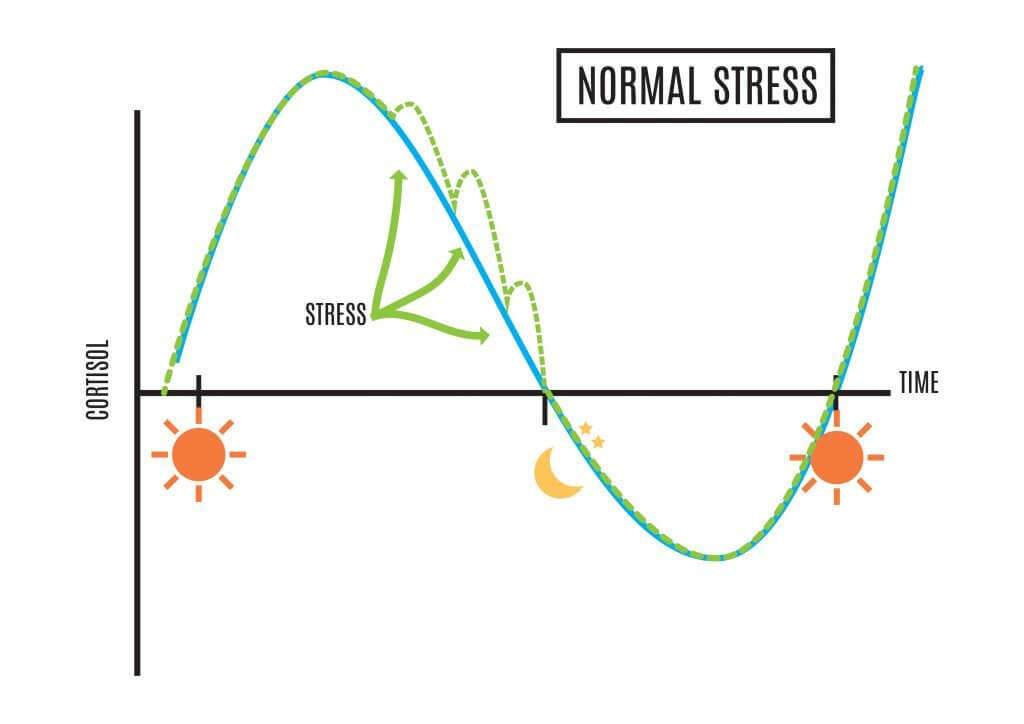 Under conditions of chronic stress the production of cortisol and slowing down can skew how this graph looks and ultimately provide an insight into why some people find it hard to de-stress at the end of the day and have a restful sleep:
Cort RX has been designed with adaptogenic herbal compounds to counter the elevated levels of cortisol that many experiencing chronic stress and symptoms mentioned earlier struggle with. The ingredients of Cort RX are designed to:
Reduce anxiety
Lower cortisol levels
Improve mental performance
Reduce inflammation
Regulate reproduction, regeneration and repair to the body
Improve mood
Regulate adrenal glands
Directions
Take one capsule, 3 times per day with meals.
Stress levels can be improved even further by removing other stressors from your life as well.